An overview of Vossloh Group
Vossloh is a globally active, listed technology company with a core focus on rail infrastructure: We provide an integrated offer for rail transportation, all from a single source. This includes unique, high-performance key products and complex systems such as track fastening systems, concrete ties, switch systems, crossings and the innovative services associated with the life cycle of rail tracks.
The experience gained over decades makes Vossloh a leading supplier for the construction and maintenance of the rail infrastructure. Vossloh is one of the market leaders in track fasteners and switch systems as well as North America's and Australia's leading manufacturer of concrete ties. When it comes to preventive rail maintenance, Vossloh has a high-speed grinding technology that's unique the world over.
Our customers are generally public and private railway companies, network operators as well as regional and municipal transport companies. They expect safe, economical, environmentally friendly and above all tried and tested products and services from one source, and are oriented towards the tried and tested: references, which Vossloh can prove for all applications worldwide – from heavy load to urban networks to high-speed lines.
In order to appear uniform and compact, Vossloh is run as an integrated Group. The divisions work closely together on the market under the operational management of Vossloh AG. For our customers this means: suitable products, systems and services from one source.
The Vossloh Group is represented in 20 countries worldwide. With an average of 3,794 employees, this Group generated sales worth €1.046,1 million in 2022. Therof 44 percent, which were achieved outside Europe.
Vossloh solutions are benchmarks in many countries around the world. Global presence means that Vossloh customers receive integrated solutions for their infrastructure wherever they are, from one source.
We are convinced, that is not only important what you do, but how you do it. For this "how", there are shared convictions and values. Passion is a powerful feeling that drives us to give the decisive little bit more than what our competitors give. We are proud that we have an extraordinarily skilled team with many years of experience with the company. Excellent service means no more and no less than meeting the customer's expectations. For the workforce, this means concentrating on core competences. Our organizational structure takes this into consideration. Clear definition of our business model – product, project and service orientation – makes our work transparent and allows cooperation, because there is no counter-productive overlap.
We foster and promote cooperation and networking Trust and respect are not only preconditions for good cooperation, it is created through close collaboration – both internally and externally. Entrepreneurial spirit is perhaps the most important Vossloh value: we see this as taking responsibility for the community. At Vossloh, you get everything you need, from one source. Business divisions with long-standing customer relationships, as well as numerous references and constantly striving for the best solution make Vossloh a reliable partner.
Vossloh's core business comprises products and services for rail infrastructure. The core business activities are organized in three divisions Core Components, Customized Modules and Lifecycle Solutions.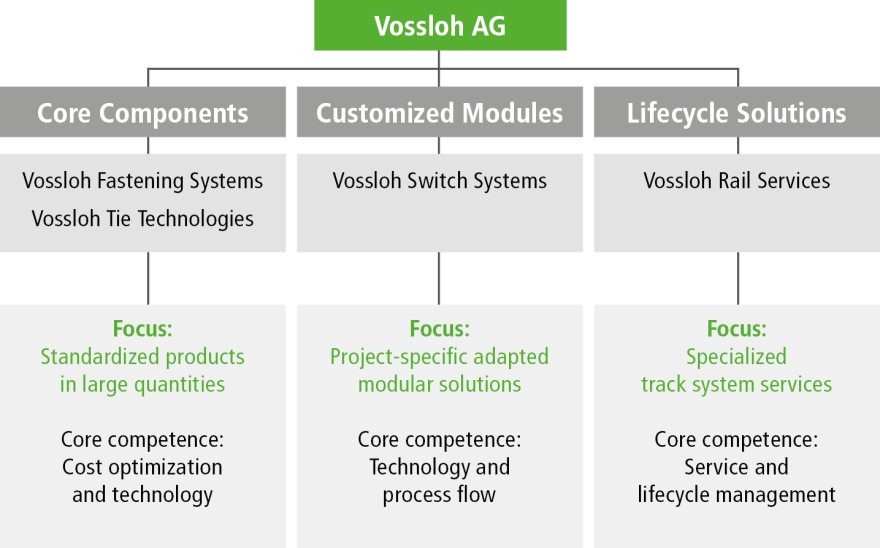 The Core Components division manufactures standardized products on an industrial scale, which are required in large quantities for rail infrastructure.
Vossloh's Fastening Systems business unit is a worldwide leading provider of rail fastening systems, which are used in more than 85 countries. The screw-fastened and maintenance-free elastic systems are suitable for all applications: ballasted and slab tracks, mainline and conventional lines, high-speed lines, heavy haul and local transport. Over 50 million tension clamps leave Vossloh's production sites in Europe, Asia and North America every year.
Furthermore, Vossloh's Tie Technologies business unit is the leading manufacturer of concrete railway ties in North America and in Australia. In addition, several production sites in the USA, Australia and another one in Mexico and Canada also produce switch ties and crossing panels. Vossloh Tie Technologies stands for decades of experience in the australian and north american market and maintains excellent customer relationships with major Class 1 rail operators as well as passenger transportation companies in North America.
The Customized Modules division develops and manufactures systems for rail infrastructure, which must be individually adapted to the customer and the project. Installation and maintenance are related Vossloh services.
Vossloh is a worldwide leading manufacturer of switch systems and crossings. At 24 production sites in 15 countries Vossloh manufactures, amongst other things, turnouts and crossings, manganese frogs, switch blade, switch actuators and locking devices, signalling products and rail monitoring systems. The Vossloh offer covers all fields of application: standard, high-speed, special and heavy haul switches in accordance with all international standards, as well as solutions for urban networks.
The Lifecycle Solutions division of Vossloh provides track related services. This includes, amongst others, welding and transportation of long rails, the corrective milling and the preventative care of tracks and switches and reconditioning and recycling of old rails. These services also cover the lifecycle management of entire track sections.
In Germany, Vossloh is already a leading provider of rail services. With high-speed grinding, a preventative track grinding process at high-speed, Vossloh has technology with a unique selling proposition worldwide. This makes Vossloh the first private company to supply maintenance services on high-speed lines in China.
Integrated management systems and sustainability
Vossloh attaches great importance to workplace safety and protecting its employees' health. The introduction of a corresponding management system and certification integrates current requirements into the ongoing processes of a company. The mandatory audits by independent external auditors ensure that legal obligations and requirements are met. Internationally recognized in this field is the ISO 45001 standard; it has replaced the formerly more common OHSAS 18001 (Occupational Health and Safety Assessment Series) standard. At Vossloh, almost all major production locations worldwide are certified to the ISO 45001 standard or to a lesser extent the OHSAS 18001 standard.
As a global player with a tradition of 140 years in business, Vossloh bears a responsibility towards its customers, partners, employees, investors and the public. It is part of this social responsibility that Vossloh and all its employees comply, always and anywhere, with applicable law, respect ethical principles, and act as a role model when we act on behalf of the company.