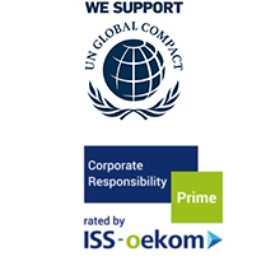 With its products and services, Vossloh makes an important contribution to the sustainable mobility of people and the transport of commodities.
Rail transport has a future – both for freight haulage and long distance and local passenger travel. Ultimately ever more goods must be transported as a result of international division of work. And the demand for individual mobility is increasing – particularly in rapidly growing economies. Urbanization is continuing to progress: since 2007 more than half of all people worldwide live in towns and cities. The distance between living, working and leisure has created huge commuter traffic. Mobility can only be sustainably guaranteed in crowded areas with the aid of high-performance mass transport systems, which themselves require a small transport area – by rail.
The Vossloh Group places great value on sustainability, tackling the daily challenge of making rail transportation safe, profitable and environmentally compatible. Because Vossloh achieves a significant part of its sales with products and services that contribute to environmentally sustainable solutions, Vossloh is also appropriate for investors with a sustainability focus. For example, Vossloh's sustainability performance has been awarded "Prime Status" by the sustainability rating agency ISS-ESG and rated "AA" by the sustainability rating agency MSCI-Ratings.
Since the beginning of 2020 Vossloh is an active participant of the UN Global Compact initiative. By supporting the principles of the UN Global Compact, Vossloh is once again outlining its contribution to achieving the global Sustainable Development Goals (SDGs) by 2030.
Here you can find in-depth information about sustainability in the Vossloh Group.