Innovative urban transport solutions

The shift from private automobile transport to rail transport can only be successful if the urban transport systems are both safe and reliable. Vossloh's products ensure comfortable transport with high operational safety and reduced noise pollution – with axle loads up to 18 tons (metro)/13 tons (tram). The diverse portfolio for urban rail transport provides customized, innovative and sustainable solutions on, below and away from the urban road network.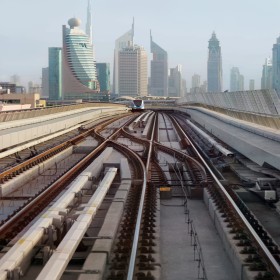 This is the case in the Chinese city of Suzhou, which has 11 million inhabitants, and for which Vossloh supplied 28 switches and track connections as well as 120,000 single support points and cavity filler blocks from one source for the 18 km long tram line 1. These components are integrated into the track network and reduce noise as well as stray-current corrosion.
Vossloh was also involved in the development of a completely new laying method in Thailand for elevated tracks, which is being used in the viaduct line of the Bangkok skytrain: the rail fastening systems are pre-installed on a pre-assembled base plate; this then only has to be aligned and cast on the construction site.
The advantages of this innovative solution, which also apply to other projects, for example in use on the Australian Gold Coast, are:
In the V-Tram segment, Vossloh focuses on switch systems for trams, which are adapted to specific geometric restrictions, independent from the rail profile technology. In France alone, Vossloh has equipped more than 20 tram networks. There are currently new lines, equipped with Vossloh products, under construction in Brest, Le Havre and Tours, and in Germany Vossloh is involved, for example in the equipment in Augsburg. In total, Vossloh equipped over 110 networks all over the world with switch systems.
The service portfolio also offers varying services – from locational studies and geometry recommendations to training for the installation and maintenance of signaling systems. High measurement accuracy with the controlled switches in the network can be achieved through the use of powerful electronic tools in connection with a special computer program, V-Survey. An individual color-coded classification of the switches with the determination of an intervention plan is helpful following visual control and a measurement survey.
Two switch families are grouped under V-Met for subway lines:
Rail grinding at up to 60km/h.
Urban rail transport must run smoothly, interferences can quickly lead to huge costs. Furthermore, a lubricating film develops on the tracks particularly quickly in cities as a result of air pollution. Prevention also makes a difference here. Vossloh Rail Services developed the special vehicle HSG-city for preventative rail grinding for local transport, which works thoroughly, cleanly, quietly and quickly, at up to 60 km/h. This regular rail grinding prevents rapid wear and tear and premature repair.
Any questions?
We're happy to personally answer any questions you have about any aspect of Vossloh.