Vossloh ranks among the technological leaders in its fields of activity in rail infrastructure. To satisfy the specific expectations of customers in individual market regions over the long term and reinforce its own competitive position, the Company intensively invests in the enhancement and optimization of its products and services, alongside the digitalization and increased automation of its internal business and manufacturing processes. Innovations are a decisive factor in maintaining the Company's technological competitiveness. Within the framework of a structured innovation management process, Vossloh continuously drives new developments forward. And all with a focus on digitalization. At the end of 2018, the company created the Chief Digital Officer (CDO) position. This individual is responsible for information technology, digitalization and innovation throughout the Group.
The research and development work at Vossloh concentrates on multiple pressing subjects in the rail industry: increasing track availability, extending the lifespan of infrastructure (components) with simultaneous reduction of lifecycle costs and reduction of noise emissions in rail traffic. In addition, Vossloh's R&D experts throughout the Group are also addressing the consequences of the increasing loads placed upon rails and the wear and tear upon rail components that this entails. As a system provider, Vossloh possesses comprehensive expertise regarding rail as a complex mode of transportation.
For several years now, Vossloh has bundled its research and development expertise into multiple technology and competence centers. In fall 2017, a Group-wide structured innovation management process was introduced that follows a systematic approach spanning the core divisions and is based around open-minded thinking. Significant drivers of new developments include the wishes and needs of customers and the requirements of the market. Vossloh now draws new and adjacent technological areas into its development work, since interdisciplinary problem-solving approaches are becoming increasingly crucial to the implementation of new business models due to increasing digitalization in the rail industry. It is precisely this use of new digital technologies that provides enormous opportunities for the Vossloh Group.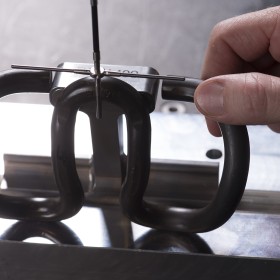 In 2019, the R&D experts in the Core Components division continued to work on new solutions for increased noise and vibration protection. In addition to the 336V rail fastening system developed for regional transportation in China, the experts also focused on the DFF 336 NG system for metro systems on solid tracks. Both systems use cellentic intermediate layers. cellentic is a highly flexible elastomer. Components made from this material optimize the elasticity of the track. This reduces vibrations and protects the superstructure. Both systems use tension clamps, rail tie bolts and clip bolts with the new premium zinc coating Vossloh protect, which is particularly environmentally friendly. This coating provides long-term corrosion protection, even in extreme conditions. Vossloh's researchers also focused on under-sleeper pads, which provide a vibration-reducing base for concrete ties.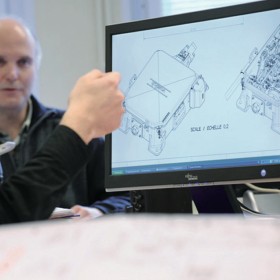 In 2019, the R&D engineers of the Customized Modules division also continued to test the new, ultra-resilient rolled steel CogX. The heat-treated laminated steel for frogs and switch points was tested in switch systems for tram and heavy duty traffic. The material provides a higher level of resistance to wear and impact compared to existing solutions, and extends service lives by up to 30 percent. An energy-efficient completely hydraulic point machine and the new digitally controllable MIM-H point machine were put through thorough practical tests on high-speed routes. The COGISLIDE coating developed in the Customized Modules division also completed the testing phase. This makes it possible for coated switch rail chairs to be moved without lubrication. Together with COGILINK, a new generation of self-lubricating washers, corrosion-proof pins and a lubricant-free ball joint for all arm types, the entire switch system becomes maintenance-free and will operate even longer and more reliably.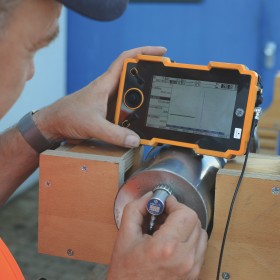 The Lifecycle Solutions division finalized the development of the compact MPM (multi-purpose milling) machine in 2019. Tailored to the needs of regional transportation and operable in tunnels, it is also suitable for flexible hot-spot processing for main-line rail routes. Vossloh engineers also began the process of developing two different grinding machines for self-driving railgrinders on Chinese regional transport networks. Initial designs for the next generation of high-speed railgrinders (HSG 3) were also prepared. In order to ensure that conditions are assessed on a regular basis, Vossloh's engineers worked on integrated measuring equipment for mobile high speed railgrinders in the 2019 fiscal year.