Our rail fastening systems offer flexibility in the superstructures of rail infrastructure. In addition to customized solutions for diverse fields of application, customer requirements and climate zones, we also organize the development of technical standards.
Concrete Ties North America
A comprehensive range of pre-stressed concrete railroad ties and turnout ties is manufactured according to customer specifications.
Concrete Sleepers Australia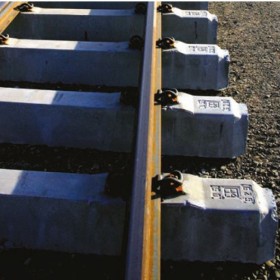 Established in 1980, Austrak has become a world leader in the design and manufacture of pre-stressed concrete sleepers, and the largest concrete sleeper manufacturer in Australia. Since 2018 Austrak has been wholly owned by the Vossloh Group.
A complete full-width / full-depth concrete grade crossing system for the railroad industry.
Vossloh, a worldwide leading provider of switch technology, offers solutions for all rail networks in order to ensure economical, safe and environmentally friendly transport of passengers and goods.
The safety products include switch drives, which are suitable for conventional tracks, urban transport systems and high-speed and heavy load transport. The products also include facing points for all switch types with electric position detection for minimal maintenance.
In the signalling system sector, Vossloh provides EDV supported relay interlocking systems, remote actuation and monitoring systems and diversion controls for heavy-load networks. The signalling systems for passenger transport fulfill the highest SIL requirements. Also in the portfolio: rail telecommunication solutions and track monitoring systems for maintenance and planning.
Rail and switch processing
Our service portfolio for maintenance and preventative care offers coordinated and thereby optimized use for all rail types. We ensure value maintenance and safety on modern railways through innovative grinding processes and milling technology.
Track analysis
Part of Vossloh's rail management system isinspection and analysis processes, which allow precise and economic measures within customized, preventative and condition-based maintenance.
With suitable, GPS supported transport vehicles as well as loading and unloading systems, Vossloh ensures coordinated just-in-time delivery of long rails and switch systems to the track construction site. The logistic portfolio is topped off with stationary and mobile welding services of the highest quality.